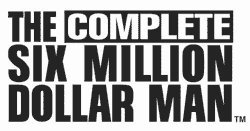 "
Steve Austin, astronaut.
A man barely alive.
Gentlemen, we can rebuild him.
We have the technology.
We have the capability to make the world's first bionic man.
Steve Austin will be that man.
Better than he was before.
Better, stronger, faster.
"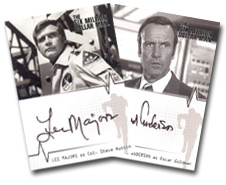 This spring Rittenhouse Archives will release The Complete Six Million Dollar Man Seasons 1 & 2!
This limited edition series of only 4,000 boxes, will focus on the first two seasons of the show that made Lee Majors one of the most popular action heros of the 70's. Each episode of the first two seasons will be spotlighted on two cards with never before-printed images of our hero in action.
This series will also feature 2 Autograph Card Per Box! Signers include Lee Majors (Steve Austin), Richard Anderson as Oscar Goldman, Alan Oppenheimer as Dr. Rudy Wells, Monte Markham as Barney Miller, John Saxon as Major Frederick Sloan, Meg Foster as Minonee and other great guest stars!
Chase sets will spotlight the three made-for-TV movies that aired before the show became a regular series. Each of the three movies will be covered in detail across three cards each with unique images and complete plot synopsis. Oscar Goldman's pet "Top Secret" programs will uncovered in the 9-card "OSI Files" set found one in every 10 packs. Steve Austin may have been the world's first bionic man, but Jaime Sommers was the first bionic woman. Theirs was a love made in heaven, and their romance will be documented in a unique scrapbook chase set "Made For Each Other".
A new official The Complete Six Million Dollar Man Seasons 1 & 2 Collector's Album will also be available, and each album will come complete with 12 plastic sheets and an exclusive autograph card of Jennifer Darling as Peggy Callahan as well as an binder exclusive P3 promo card.