2 AUTOGRAPH CARDS
IN EVERY PREMIUM PACK!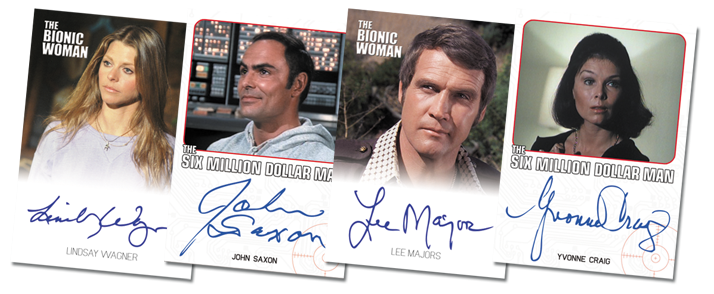 Lindsay Wagner or Lee Majors Autograph Card
Guaranteed in Every Box!
This all-new limited edition series will feature every episode from every season of both The Six Million Dollar Man (103), including the 3 original movies/pilot episode, and The Bionic Woman (57), plus all 3 Bionic reunion specials. Each pack will include 2 autograph cards and 11 episode cards.
8-Box Incentive:
The Complete Six Million Dollar Man/The Bionic Woman Archive Box, including EXCLUSIVE (not found in packs) full-color autograph card signed by
WILLIAM SHATNER (Josh Lang, "Burning Bright"), EXCLUSIVE (not found in packs) Silver Signature Series Autograph Card signed by LINDSAY WAGNER (Jaime Sommers) and EXCLUSIVE (not found in packs) variation autograph card signed by MARTIN E. BROOKS (Dr. Rudy Wells), plus a complete master set of episode cards, all pack-inserted autograph cards, the box topper, and the 2-box and 4-box incentives.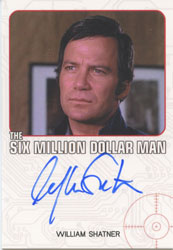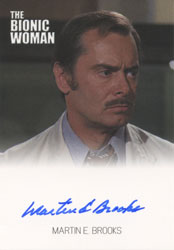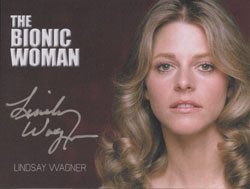 Box Topper:
3-Card Bionic Woman Implant Set
2-Box Incentive:
Richard Anderson (Oscar Goldman) Silver Signature Series Autograph Card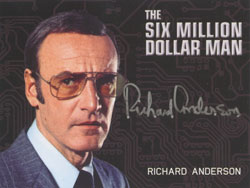 4-Box Incentive:
Lee Majors (Colonel Steve Austin) Silver Signature Series Autograph Card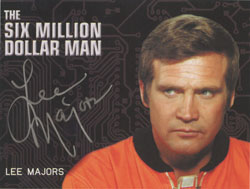 TM & © 2013 Universal Studios. All Rights Reserved