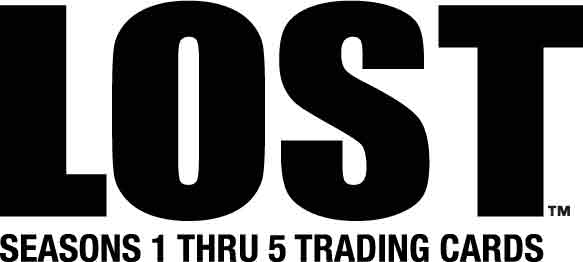 On January 27, 2010, Rittenhouse Archives will release our first trading card set dedicated to ABC's smash hit TV series LOST. LOST: Seasons 1 thru 5 will have an 108-Card Base Set, featuring 1 card for each episode from all 5 seasons of LOST, plus lenticular LOST In Motion cards and other exciting bonus cards!
Each box will contain 3 Autograph Cards with 34 Autograph signers including:
Alice Evans (Eloise Hawking)

Mark Pellegrino (Jacob)

Titus Welliver (Man In Black)

Alan Dale (Charles Widmore)

Evan Handler (Dave)

Doug Hutchison (Horace)

Jon Gries (Roger Linus)

Tania Raymonde (Alex)

Patrick Fischler (Phil)

William Sanderson (Oldham)

Eric Lange (Stuart)

William Mapother (Ethan)

Andrea Roth (Harper Stanhope)

Andrew Divoff (Mikhail)

Anne Bedian (Amira )

Francois Chau (Dr. Pierre Chang)

Billy Ray Gallion (Randy Nations)

Michelle Rodriguez (Ana Lucia)

Yunjin Kim (Sun)

Terry O'Quinn (Locke)

Michael Emerson (Ben Linus)

Henry Ian Cusick (Desmond)

Ken Leung (Miles)

Nestor Carbonell (Richard)

John Terry (Christian Shephard)

Sonya Walger (Penny Widmore)

Ian Somerhalder (Boone)

Mira Furlan (Rousseau)

Kiele Sanchez (Nikki)

Malcolm David Kelley Walt Lloyd)

Monica Dean (Gabriela)

Sam Anderson (Bernard Nadler)

Sung Hi Lee (Tricia Tanaka)

Tom Connolly (Young Charles Widmore)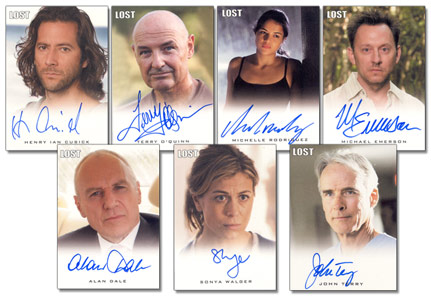 LOOK FOR EXCLUSIVE



TRADING CARDS IN THE LOST SEASONS 1-5 TRADING CARD BOXES!
Each case will come with an autograph card signed by L. Scott Caldwell as Rose Nadler.
For every 3-cases purchased you will receive an autograph card signed by Harold Perrineau (Michael).
For every 6-cases purchased you will receive an exclusive costume relic card with material worn by Evangeline Lilly.
For every 15-cases purchase you will receive a LOST: Seasons 1 thru 5 Archive Box. This box contains all of the pack inserted chase cards (including autographs), the 3-case and the 6-case incentive cards. This box however does not contain any of the regular base cards.
LOST: THE FINAL SEASON
TUESDAY 8/7c | PREMIERES FEB 2

LOST © ABC Studios. All Rights Reserved
Flash Forward © ABC Studios. All Rights Reserved.