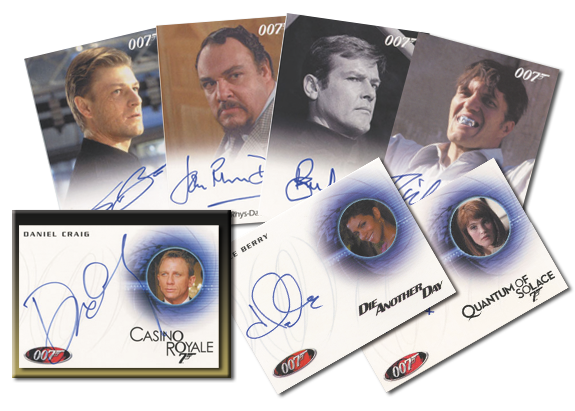 3 AUTOGRAPH CARDS IN EVERY BOX

Daniel Craig (James Bond)
Roger Moore (James Bond)
Halle Berry (Jinx/Die Another Day)
Sean Bean (Alec Trevelyan/GoldenEye)
Gemma Arterton
(Fields/Quantum of Solace)
John Rhys-Davies
(Gen. Pushkin/The Living Daylights)
Richard Kiel
(Jaws/The Spy Who Loved Me
/Moonraker)
Michelle Yeoh
(Wie Lin/Tomorrow Never Dies)
Honor Blackman
(Pussy Galore/Goldfinger)
Gotz Otto (Stamper/Tomorrow Never Dies)
Anthony Zerbe
(Milton Krest/Licence To Kill)
Gloria Hendry
(Rosie Carver/Live And Let Die)
... and dozens more!

99-CARD GOLD FOIL/EMBOSSED BASE SET
including all 22 classic James Bond films, from Dr. No to Quantum of Solace! This base set
in Series 2 represents the second half of the cards in this spectacular 198-card set.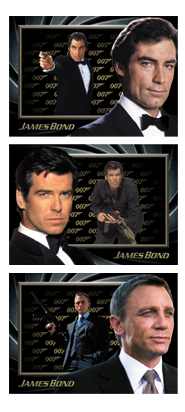 PLUS THE FOLLOWING BONUS
CARD SETS:
99-card Parallel Base Set Cards
108-card "From Russia With Love" Throwback Cards
11 Commemorative Gold Foil Plaque Cards
18 James Bond 007 Gold Gallery Cards
4 James Bond/"SkyFall" Preview Cards
3 James Bond Shadowbox Cards, featuring Timothy Dalton, Pierce Brosnan and Daniel Craig