6 Autograph Cards and
1 Relic Card Per Box!
Only 4,500 Sequentially-Numbered Boxes!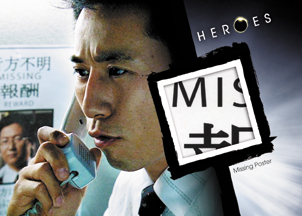 Partial list of the more than 40 different autograph signers include:
Hayden Panettiere (Claire Bennet)
Kristin Bell (Elle Bishop)
Jack Coleman (Noah Bennet)
Adrian Pasdar (Nathan Petrelli)
Greg Grunberg (Matt Parkman)
Sendhil Ramamurthy (Mohinder Suresh)
Malcolm McDowell (Linderman)
Jessalyn Gilsig (Meredith)
Richard Roundtree (Charles Deveaux)
James Kyson Lee (Ando)
Zeljko Ivanek (Emile Danko)
David H. Lawrence (Doyle)
Jimmy Jean-Louis (The Haitian)
Madeline Zima (Gretchen)
Cristine Rose (Angela Petrelli)
And Many More to be announced soon!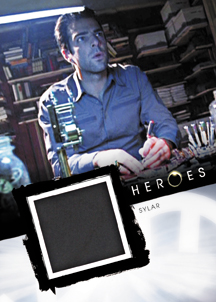 Chase sets include:
9 The "Quotable" Heroes Cards (1:8 packs)
8 Heroes Generations Cards (1:12 packs)
15 Heroes Relic Cards (1:24 packs)
Each case will come with a Dawn Oliveri (Lydia) Autograph Card!
1st Tier Multi-Case Incentive Card: (1 for every 3 cases ordered):

Autograph card signed by George Takei (Kaito Nakamura)

2nd Tier Multi-Case Incentive Card: (1 for every 6 cases ordered):

Autograph card signed by Eric Roberts (Thompson)

3rd Tier Multi-Case Incentive Card: (1 for every 12 cases ordered):

HEROES Archives archive box - Will includes all pack-inserted chase cards, all 40 pack-inserted autographs, the 3-case incentive PLUS 5 exclusive autograph card variations:

Hayden Panettiere as Clarie Bennett
Adrian Pasdar as Nathan Petrelli
James Kyson Lee as Ando
Sendhil Ramamurthy as Mohinder Suresh
Jimmy Jean-Louis as The Haitian
Set Configuration:
72 Base Cards
5 Cards Per Pack
24 Packs Per Box
12 Boxes Per Case
SRP: $3.50 per pack