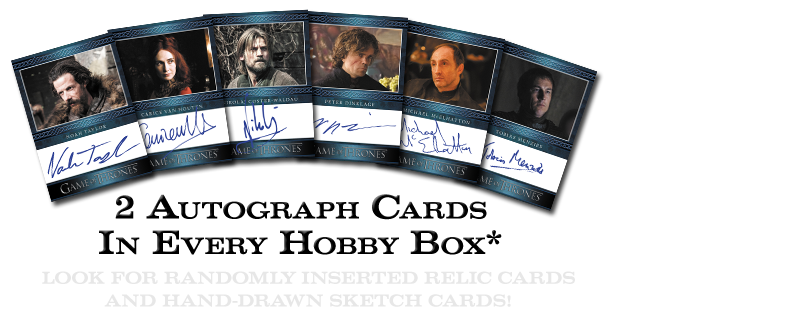 Rittenhouse Archives is pleased to announce Game of Thrones Season Three Trading Cards.
with autograph signers including the following characters:
Tyrion Lannister (played by Peter Dinklage)
Melisandre (played by Carice van Houten)
Queen Cersei Lannister (played by Lena Headey)
Jaime Lannister (played by Nikolaj Coster-Waldau)
Talisa Maegyr (played by Oona Chaplin)
Podrick Payne (played by Daniel Portman)
Locke(played by Noah Taylor)
Walder Frey (played by David Bradley)
Stannis Baratheon (played by Stephen Dillane)
Roose Bolton(played by Michael McElhatton)
Edmure Tully (played by Tobias Menzies)
Gilly (played by Hannah Murray)
Gregor Clegane (played by Ian Whyte)
Tormund Giantsbane(played by Kristofer Hivju)
Meera Reed (played by Ellie Kendrick)
Ramsay Snow (played by Iwan Rheon)
Ygritte (played by Rose Leslie)
Brienne of Tarth (played by Gwendoline Christie)
Shae (played by Sibel Kekilli)
Margaery Tyrell (played by Natalie Dormer)
Sansa Stark (played by Sophie Turner)
Ser Jorah Mormont (played by Iain Glen)
Arya Stark (played by Maisie Williams)
"The Hound" (played by Rory McCann)
Littlefinger (played by Aidan Gillen)
Varys (played by Conleth Hill)
Joffrey Baratheon (played by Jack Gleeson)
Osha (played by Natalia Tena)
... and many more!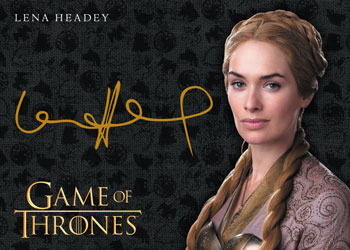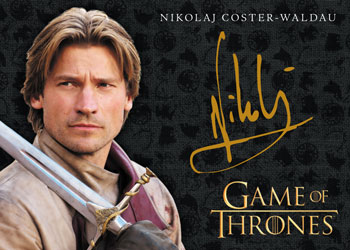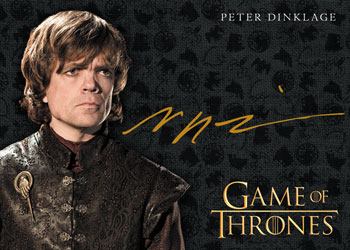 For every 3 cases purchased, you will receive a Lena Headey (Queen Cersei) GOLD Autograph Card or a Nikolaj Coster-Waldau (Jaime Lannister) GOLD Autograph Card (you will receive both with each 6-case order).

For every 6 cases purchased, you will receive a Peter Dinklage (Tyrion Lannister) GOLD Autograph Card

For every 18 cases purchased, you will receive a bonus Game of Thrones: Season Three Archive Box
99-Card Base Set, featuring detailed plot synopses for all 10 Season Three episodes,
and biographies for more than 60 different characters! Plus, numbered GOLD base parallel cards, Quotable Game of Thrones cards, Game of Thrones Relationships cards, Gallery cards, Map Marker Sigil cards and more!

Set Configuration: 5 Cards Per Pack, 24 Packs Per Box, 12 Boxes Per Case



Official HBO Licensed Product © 2014 Home Box Office, Inc. All Rights Reserved..
HBO and related trademarks are the property of Home Box Office, Inc.
* Stated insertion rates are limited to Hobby boxes only. Insertion rates for Retail boxes sold in Target and other mass retail outlets will be different, and there is no guarantee of autograph cards or other hobby inserts in each Retail box.