| | |
| --- | --- |
| Tyrion Lannister (played by Peter Dinklage) | Sansa Stark (played by Sophie Turner) |
| High Sparrow (played by Jonathan Pryce) | Melisandre (played by Carice van Houten) |
| Jon Snow (played by Kit Harington) | Karsi (played by Birgitte Hjort Sorensen) |
| Doran Martell (played by Alexander Siddig) | King Tommen (played by Dean-Charles Chapman) |
| Cersei Lannister (played by Lena Headey) | Margaery Tyrell (played by Natalie Dormer) |
| Arya Stark (played by Maisie Williams) | Jaqen H'ghar (played by Tom Wlaschiha) |
| Roose Bolton (played by Michael McElhatton) | Ramsay (played by Iwan Rheon) |
| Missandei (played by Nathalie Emmanuel) | Grey Worm (played by Jacob Anderson) |
| Tyene Sand (played by Rosabell Laurenti Sellers) | Nymeria Sand (played by Jessica Henwick) |
| Obara Sand (played by Keisha Castle-Hughes) | Ellaria Sand (played by Indira Varma) |
| Mace Tyrell (played by Roger Ashton-Griffiths) | Trystane Martell (played by Toby Sebastian) |
| Olly (played by Brenock O'Connor) | Eddison Tollett (played by Ben Crompton) |
| Shireen Baratheon (played by Kerry Ingram) | Mossador (played by Reece Noi) |
| High Septon (played by Paul Bentley) | Robin Arryn (played by Lino Facioli) |
| Lord of Bones (played by Ross O'Hennessy) | Hizdahr zo Loraq (played by Joel Fry) |
| Wun Wun The Giant (played by Ian Whyte) | Yezzan zo Qaggaz (played by Enzo Cilenti) |
| Lollys Stokeworth (played by Elizabeth Cadwallader) | Myranda (played by Charlotte Hope) |

Plus EXCITING Bonus Cards:
100 Parallel base cards
100
GOLD
Parallel base cards
9 "Quotable" Game of Thrones cards
10 "Relationship" Cards
10
GOLD
Parallel "Relationship" cards
16 Game of Thrones "Reflections" (Mirror) cards
20 "Beautiful Death" Art cards
20
GOLD
Parallel "Beautiful Death" Art cards
Night's Watch Relic Cards
Dragonglass Relic Card
Hand-drawn Sketch Cards
Sketch artists include:
Kristin Allen
Francois Chartier
Adam Cleveland
Roy Cover
David Desbois
Mick and Matt Glebe
Javier Gonzalez
Dan Gorman
Charles Hall
Scott Houseman
Gavin Hunt
Debbie Jackson

Mike James
Achilleas Kokkinakis
Rich Kunz
Lee Lightfoot
Jeff Malinson
Warren Martineck
Chris Meeks
Sean Pence
Tim Shay
Danny Silva
Brad Utterstrom
Helga Wojik

Case Toppers:
House Baratheon (H11) Die-Cut Shield Card
House Bolton (H12) Die-Cut Shield Card
6-Case Incentive: Dual Autograph Card Signed by Sansa Stark (played by Sophie Turner) and Littlefinger (played by Aidan Gillen)!
9-Case Incentive:
Tyrion Lannister (played by Peter Dinklage) Autograph Relic Card
18-Case Incentive:
Game of Thrones: Season Five Archive Box, including exclusive Tyrion Lannister (played by Peter Dinklage) Bordered Autograph Card and Set of Four Printing
Plates used to make one of the Base Set Cards!
Click here for a complete list of Archive Box contents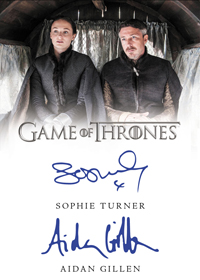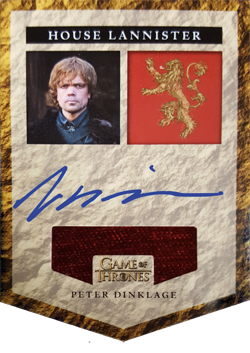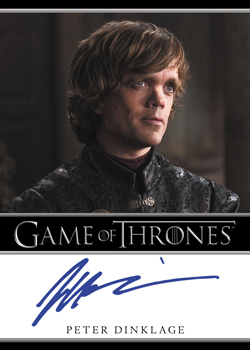 Official HBO Licensed Product © 2016 Home Box Office, Inc. All Rights Reserved.
HBO and related trademarks are the property of Home Box Office, Inc.