Farscape inMotion Premiere Edition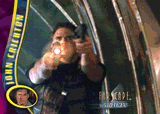 Farscape In Motion, one of the most visually stunning and technologically advanced card sets ever produced, starbursts into stores April 2001! The 60-card all-lenticular base set (2-1/2"x3-1/2" cards) features subsets of all the series' top stars, including John Crichton, Aeryn Sun, D'Argo, Zhaan, Chiana, Scorpius, Rygel, Crais and Pilot. Plus, several levels of bonus lenticular cards include "The Good, The Bad & The Ugly" (the show's most compelling guest stars), "Ships In Motion", "Close Encounters" (our heroes get very friendly sometimes...), and "Portraits In Motion".
Only 4,000 boxes (500 cases) have been produced, and every box comes complete with 24 packs (4 cards per pack), one of 4 new "From The Archives" costume card plus one of 6 totally unique "Sound In Motion" audio cards (lenticular fronts not found elsewhere) and 3 different 5"x7" Foil-Stamped "Farscape Archive Collection" cards (not lenticular). Each Archive Collection card has been hand numbered either 1-999 or 1-500.
As an added bonus for dealers or collectors who purchase full 8-box cases, Rittenhouse Archives has included a limited edition (of 500) AUTOGRAPH CARD SIGNED BY CLAUDIA BLACK (Aeryn Sun)!