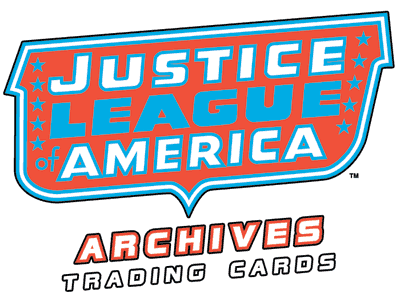 This fall Rittenhouse Archives will release
Justice League of America Archives
, an historical retrospective on the legendary DC Comics team. This set will cover the team's history from 1960 to 1969, starting with their first mission together in "Brave and the Bold" #28. Each box of
Justice League of America Archives
trading cards will feature a hand-drawn, hand-colored sketch card from one of 39 different artists. This series is limited to just 6,000 boxes!
• Al Bigley (100)
• Kate Bradley (190)
• Corey Breen (250)
• Pat Broderick (133)
• James Bukauskas (200)
• Mark Dos Santos (200)
• Neil Edwards (200)
• Brent Engstrom (250)
• Mike Fiorentino (200)
• Joel Gomez (200)
• Matthew Goodmanson (200)
• Kevin Graham (200)
• Fred Haynes (225)
• Don Hillsman II (110)
• Aaron Houston (200)
• John Haun (200)
• Brian Kong (250)
• Jim Kyle (200)
• Cully Long (200)
• Warren Martineck (200)

• Rich Molinelli (200)
• Chris Moreno (200)
• Nathan Ohlendorf (200)
• Rhiannon Owens (200)
• Dennis Pacheo (200)
• Andy Price (200)
• Harvey Richards (225)
• Tone Rodriguez (250)
• Ronald Salas (200)
• Michael Sellers (200)
• Dezi Sienty (250)
• Uko Smith (250)
• Jason Sobol (200)
• Mark Spears (200)
• Bobby Vala (200)
• Tom Valente (225)
• Justin Vandemark (200)
• Steve Wands (225)
• Nathan Watson (200)

Look for these Insert Sets:
18 Super Friends Cards - Direct from the classic cartoon series!
7 Founding Members Cards - The original founding members of the JLA
6 Other Earths Cards - Versions of our heroes from Earth 2 and Earth 3!
Each case includes an exclusive autograph card signed by
Murphy Anderson
. Murphy Anderson was the inker and penciler on many of the first JLA covers.


For every 3 cases purchased, you will receive a one-of-a-kind hand-painted card by artist Felipe Massafera. For every 9 cases purchased, you will receive a one-of-a-kind hand-painted card by artist Bard.

For every 18 cases purchased, you will receive a Justice League of America Archives Archive Box containing one sketch card from each of the artists inserted into the packs for a total of 39 different sketch cards!
Fans and collectors will also be able to store their collection in a custom designed collector's album which contains an exclusive promo card.


Set Configuration

5 Cards Per Pack
24 Packs Per Box
12 Boxes Per Case
TM and © DC Comics.(s09)