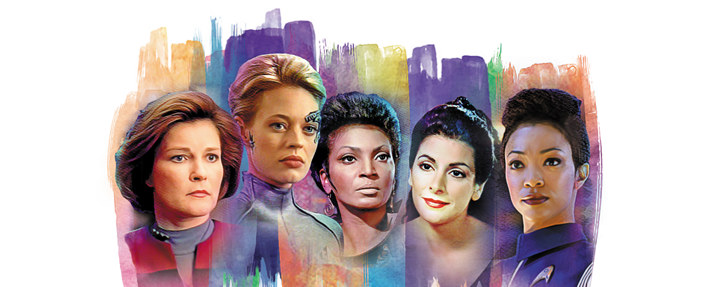 Autograph Signers Include:
Nichelle Nichols (Uhura/TOS)
Zoe Saldana (Uhura/Movies)
Sonequa Martin-Green (Burnham/ Discovery)
Linda Park (Hoshi Sato/Enterprise)
Michelle Yeoh (Georgiou/Discovery)
Louise Sorel (Rayna Kapec/TOS)
Tracy Scoggins (Gilora Rejal/DS9)

Majel Barrett* (Nurse Chapel/TOS)
Whoopi Goldberg (Guinan/TNG)
Ashley Judd (Robin Lefler/TNG)
Mary Wiseman (Tilly/ Discovery)
Isa Briones (Soji/Picard)
April Tatro (Isis/TOS)
Tig Notaro (Jett Reno/Discovery)
And Many More!
*Majel Barrett signed cards were among the very last items she signed before passing away in 2008


72-Card Base Set, featuring characters from the entire Star Trek universe!
PLUS
Exciting Bonus Cards:
16 Women of Star Trek Universe Gallery Art Cards
10 Starfleet's Finest Painted Portraits Metal Cards by Kevin Graham
(#'d to 50 each)
18 'Quotable' Women of Star Trek Expansion Cards
24 Artist's Rendition Triple Art Cards
12 Women of Star Trek Archive Collection Expansion Cards
(#'d to 99 each)
T'Pol/Enterprise (RC51) Relic Card
Hand-Drawn Sketch Cards
Sketch Card Artists Include:
Dan Bergren
Roy Cover
Gabe Farber
Jim Faustino
Javier Gonzalez
Kevin Graham
Charles Hall
Phil Hassewer
Tim Levandoski
Lee Lightfoot
Paul Maitland
Jeff Mallinson
Shane McCormack
Sean Pence
Ashleigh Popplewell
Brent Ragland
Scott Rorie
Westley Smith
Huy Truong
Artist Spotlight: Sean Pence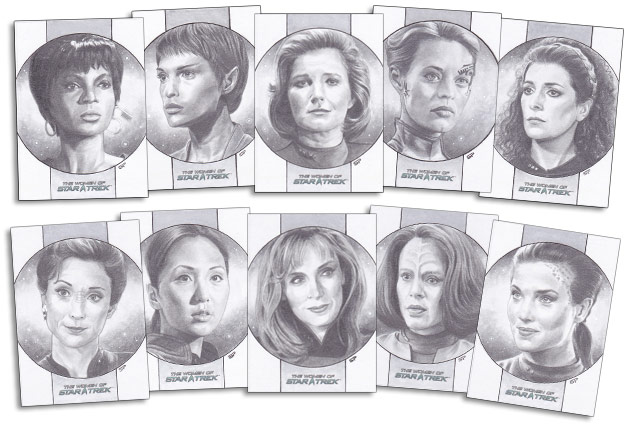 Case Topper Cards:
CT1: Captain Janeway (Voyager) Rendered Art Metal Card
CT2: Seven of Nine (Voyager) Rendered Art Metal Card
6 Case Incentive
Legends of Star Trek Autograph Card Signed
by Nana Visitor (Kira Nerys/DS9)

9 Case Incentive
Hand-Drawn Sketch Card by Artist Andy Price!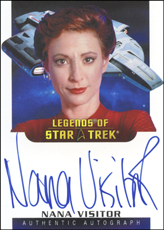 18 Case Incentive
Women of Star Trek Art & Images
Trading Cards Archive Box, including
exclusive printing plate cards and more!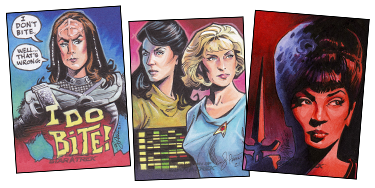 TM & © 2021 CBS Studios Inc. STAR TREK and related marks and logos are trademarks of CBS Studios Inc. All Rights Reserved.