We're extremely pleased to announce the addition of Chris Pine, who plays Captain Kirk, and Zachary Quinto, who plays Spock, to our growing list of autograph cards to be inserted into our upcoming Star Trek Movie Trading Card Set.

"Chris (Kirk) and Zach (Spock) play 2 of the most important characters ever created in the history of science fiction," said Rittenhouse President Steve Charendoff. "I have no doubt that their signature cards will be among the most sought after in the hobby, not only now, but also in the years to come."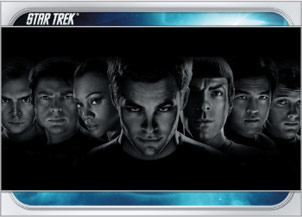 On average, there will be one autograph and one costume card in every box of the Star Trek Movie Cards. Besides Chris Pine and Zachary Quinto, signers include Bruce Greenwood (Captain Pike), Karl Urban (Dr. McCoy), Zoe Saldana (Uhura), John Cho (Sulu), Anton Yelchin (Chekov), Eric Bana (Nero -- the main villain), Jacob Kogan (Young Spock) and J.J. Abrams, who is producing and directing the film, which will be released on May 8th.