Autograph and Costume Card Expansion Set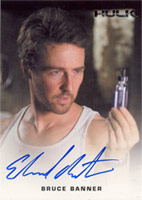 This "Incredible" set features 2 different autograph cards signed by Edward Norton (as Bruce Banner) and Lou Ferrigno (as the Security Guard), plus 6 different costume cards with materials worn by Norton, Liv Tyler (Betty Ross), William Hurt (General Ross), Tim Roth (Emil Blonsky), Tim Blake Nelson (Samuel Sterns) and Ty Burrell (Leonard Samson), plus a sequentially numbered card depicting "The Incredible Hulk" movie poster. This edition will be limited to 375 numbered sets.

As an added bonus, for every 3 sets purchased, you will receive FREE alternate version autographs signed by Edward Norton (as the Hulk) and Lou Ferrigno (as the voice of the Hulk). Both alternate version autograph cards will depict images of the Hulk. There will only be 125 of each of these alternate version autographs made.

For additional details and images of the cards, please visit the Incredible Hulk section of our website.