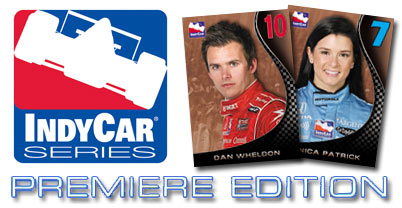 Excitement is building as we are now just three weeks away from the release of Rittenhouse Archives' Premiere Edition IndyCar Series® Trading Cards. To add to the excitement, Rittenhouse Archives has made some changes to the insertion odds of some of the chase cards. Now collectors will find more of the "Road to Indy" (1:8 packs) and "Shades of Victory" (1:12 packs) cards in each box. Also look for the 9-card A.J. Foyt 50th Anniversary subset (1:24 packs) with each card numbered to 500.

Each box still boasts an impressive 2 Autograph Cards inside with autographs from some of today's top drivers including 2007 INDY 500® winner Dario Franchitti and 2005 INDY 500® winner Dan Wheldon. For a complete list of signers, please visit the Indy Car Series section of our website at http://www.scifihobby.com/products/indycarseries/premiere
For every 3 cases purchased, you will receive a very limited edition autograph card signed by 4-time INDY 500 champ A.J. Foyt. For every 10 cases purchased, you will receive a limited edtion Archive Box which will contain a complete master set of the series.

Don't have your boxes on pre-order yet? Don't worry, a few boxes do still remain available, but not for long. Be sure to put your order in today and reserve your boxes of this ground breaking Indy Card Series® set!